---
Business & Community Websites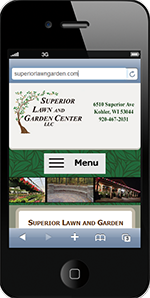 Superior Lawn and Garden Center offers many different services to keep your outdoor spaces looking their best. Our experienced landscape designers can provide you with the outdoor space of your dreams. They make sure the outside of your home or business is just as personal and beautiful as the inside.
---
Attorney Tom Aul has been serving Wisconsin clients for over 50 years. He has the experience and knowledge to help you with Estate Planning, Business Planning and Real Estate. Serving his clients is an honor and a privilege for Tom.
---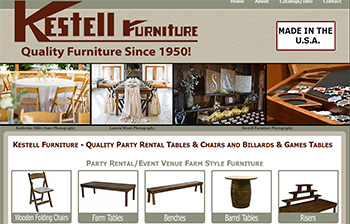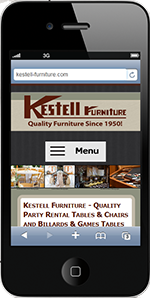 Kestell Furniture in New Holstein, Wisconsin manufactures wooden folding chairs for the rental market. They also make poker, game, and card tables with matching chairs. This website holds much more information than first meets the eye. Our goal was to take the information from their old site and display it in a more organized and user-friendly way. We accomplished our goal!
---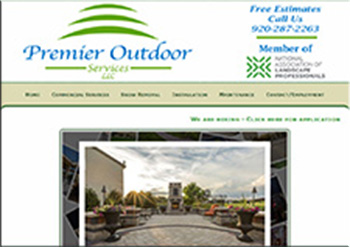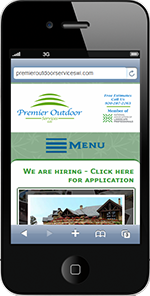 Premier Outdoor Services is a full-service landscape and snow removal business in Sheboygan, Wisconsin. After many years in business, James Coulson, Owner of Premier realized he needed a simple, functional web presence to get his products and services out to area businesses and home owners. His website highlights his focus on working with business owners to provide reliable, year-round service.
---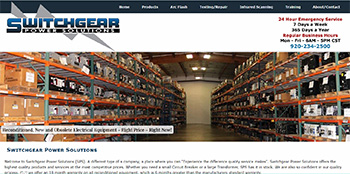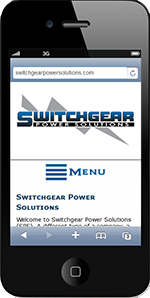 Switchgear Power Solutions is a startup electrical products, services, and testing business in Sheboygan County, Wisconsin.
---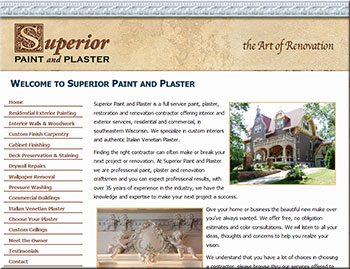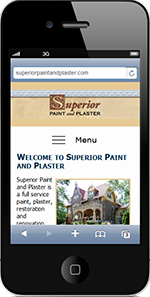 We took over Superior Paint & Plaster's website when owner Jeff Seifert had trouble with hacking and general Wordpress problems. After years of dealing with Wordpress associated issues, Jeff wanted the site out of Wordpress. I recreated the site to look much like it had but used the always functional and user-friendly left, vertical navigation rather than a lot of drop-down menus. The site still looks great and users can find what they are looking for at a glance.
---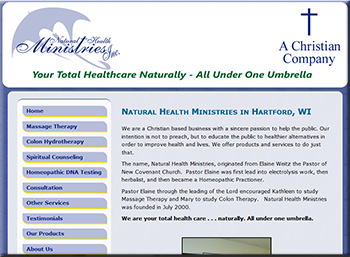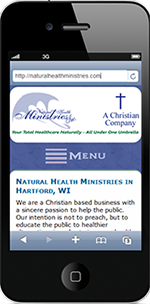 Natural Health Ministries in Hartford, Wisconsin provides many services. They have a passion for helping people and they have served their clientele well for many years.
---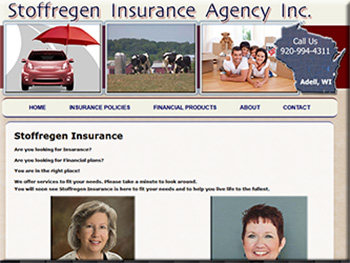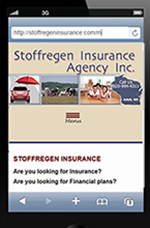 Stoffregan Insurance Agency in Adell, Wisconsin is owned and operated by Bonnie Sande, daughter of founder Ken Stoffregan. The Stoffregans have been serving the area's insurance needs since 1969.
---
Holyland Catholic Parishes, located in the northwest corner of the Archdiocese of Milwaukee. We use the parish website to post the bulletin weekly, mass times, events and meetings, meeting agendas and minutes, and other documents of interest to parishioners. We also provide a link to the school website, as well as many other useful links.
---
I created the website for Milestones Adult Family Home located just south of the City of Sheboygan, Wisconsin. Milestones is a non-profit organization established to give young adults with significant disabilities a safe, comfortable and fun place to call home. I added a PayPal donations button to make it very easy for anyone who wishes to help this great cause. No amount is too small. A one-time donation helps for a lifetime!
---
The Sheboygan River Progressive Farmers live and farm around the Sheboygan River in Wisconsin. Their purpose is to test and explore farming strategies that lead to improved soil health, greater farming efficiency, sustain profitability and lessen the impact on the environment. Members of the alliance share information gained through field trials with fellow farmers, thus increasing the sustainability of farming across the basin.
---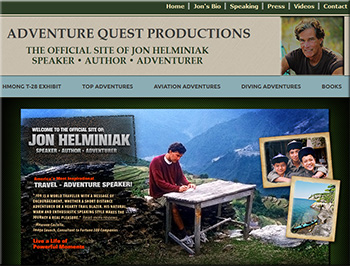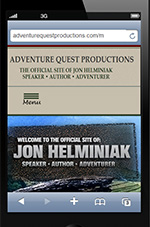 Hundreds of photos highlight the Adventure Quest Productions site. Author Jon Helminiak has traveled all over the world and written several books about his adventures.
---
The Fox Valley Wellness and Midwest Hyperbarics website was in dire need of a redesign and update after being updated by staff through a content management system for many years. Their new site includes nearly 40 pages with great content and many photos of staff and facility.
---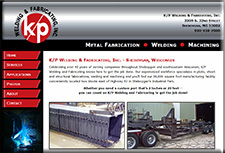 KP Welding & Fabricating owner Saunders Kohn needed a new look for his website. To display their diverse work, I added a photo gallery of recent projects. KP is located in Sheboygan, WI.
---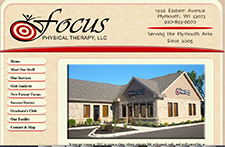 At Focus Physical Therapy in Plymouth, WI, owner Peggy Huhn and her staff are highly 'focused' on their patients needs and wellness. We wanted to use photos to showcase the hands-on nature of their treatment while also highlighting the equipment that is available to current and 'graduated' patients.
---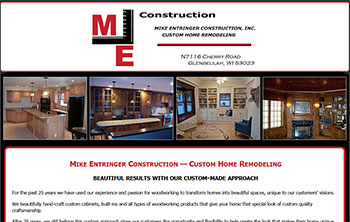 This site showcases Mike Entringer of ME Construction, Glenbeulah, WI and his carpentry business to home owners and potential clients.
---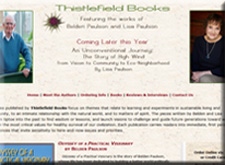 The Thistlefield Books site was created to showcase the books of authors Belden and Lisa Paulson. We continue to expand the website as they write more books. Ordering information is also available on the site.
---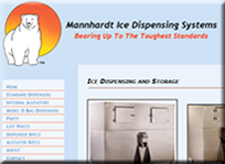 Mannhardt Inc. was looking for a new site design, hosting services and a new domain. Within three weeks we had their site up and running showcasing their Ice Machines, Dispensers, and Baggers.
---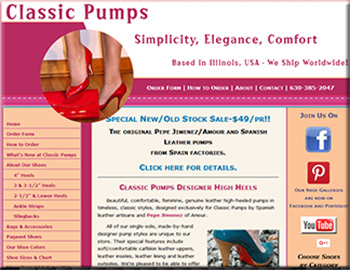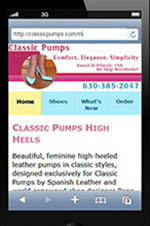 At Classic Pumps you will find the highest quality, most flattering, genuine leather high heeled pumps on the market today. This site was both a challenge and great fun! Their old site had been around since 1992. As websites often do, Classic Pumps lost its functionality and user-friendliness over the years. It was definitely time for a new look and some clean-up. It is now a clean, concise, quality site - the kind I like to make!
---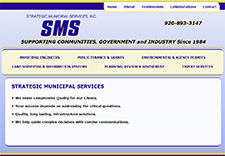 Strategic Municipal Services has been supporting communities, government and industry since 1984. Based in Plymouth, Wisconsin, SMS contracts with municipalities and businesses throughout the state to help with their civil engineer and survey needs.
---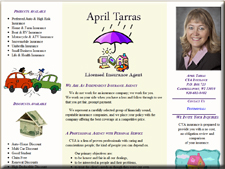 Turning her brochure into a web site was an inexpensive, easy way for April Tarras to connect with current and prospective customers. The essential basic and contact information makes April's business visible at this time and she can add to her site at any time in the future.
---
House of Praise Mission - Haiti
If you would like to help Pastor Saint Clair Destine and the mission —
heccmission@gmail.com

---
Sparrow Life 4 Kids - Haiti
If you would like to help Pastor Saint Clair Destine and the children of Haiti — sparrowlife4kids@gmail.com

---
The Northern Kettle Moraine Nordic Ski Club in Greenbush, WI is a group of dedicated and hard-working ski enthusiasts. They groom, enhance, and care for the cross-country ski trails in the Kettle Moraine Forest in Sheboygan County. They also raise funds to buy equipment and assist in their efforts to maintain top-notch trails for members and visitors alike. This site includes a link to the youth members' Facebook page. Rather than making numerous updates to the website, the Youth Director posts information to Facebook, saving the club money and time. It's a great use of social media in conjunction with a website.
---
House of Praise Mission - Haiti. If you would like to help Reverend Daniel and the mission Email Us.

---